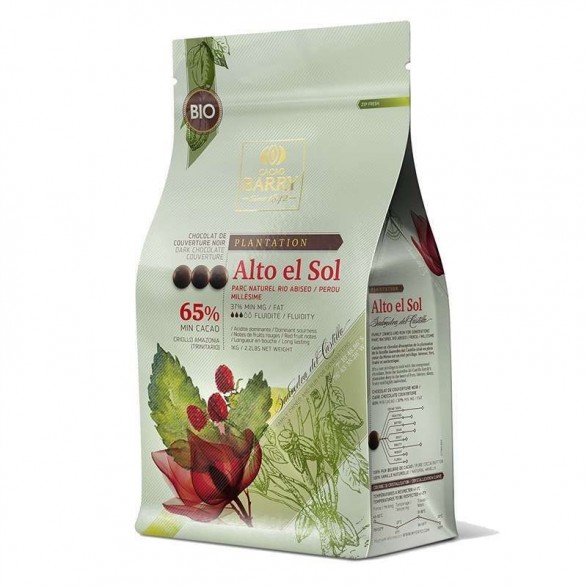  
Dark Chocolate couverture Bio Alto El Sol 65% 1 kg
This organic Barry dark couverture chocolate Alto El Sol is particularly fruity. Its acidity and notes of red fruits dominate, with a slight touch of black olive. Organic chocolate Alto El Sol Barry is a dark chocolate with 65% cocoa.
Easy to use, these chocolate Barry pistoles of about 2g allow easy dosing for all your chocolate recipes. The packaging of Barry cocoa is specially designed to ensure a good preservation of your chocolate after opening.
Composition: organic Peru cocoa paste, organic cane sugar, organic cocoa butter, emulsifier: organic soy lecithin, natural Bourbon powder vanilla bio. May contain milk.
This organic Alto El Sol couverture chocolate goes perfectly with vanilla, speculoos, tonka beans, apricots, peaches, mangoes, mirabelle plums, red peppers, tomatoes, bananas and almonds. the pistachio.
Use: This Barry Cacao is ideal for molding chocolates and candies, coating and making tablets.
1Kg bag of black chocolate pistols Alto El Sol Barry.
Customers who bought this product also bought: