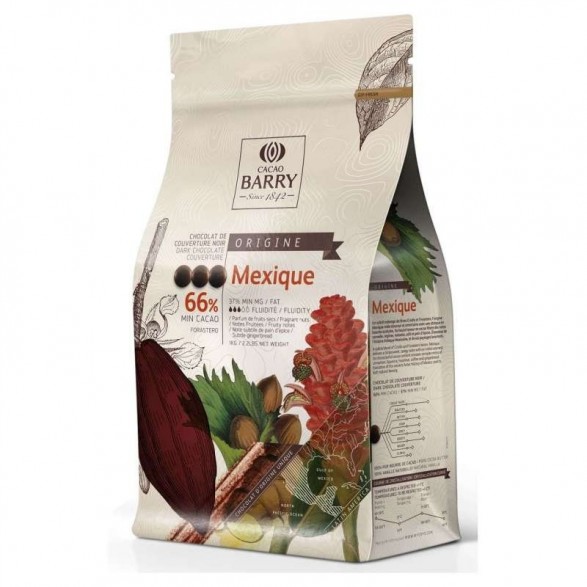  
Couverture chocolate BARRY- 66 % Mexico - 1kg
Couverture chocolate Mexico is extremely fine. Slightly acidic, this Barry chocolate reveals spicy and woody notes, with a hint of licorice. The characteristics of this couverture chocolate come from the weak fermentation given to Mexican cocoa beans. Mexico chocolate is a dark chocolate with 66,1% cocoa, resulting from a subtle blend of Criollo and Forastero.
Easy to use, these chocolate Barry pistoles of about 2g allow easy dosing for all your chocolate recipes. The packaging of Barry cocoa is specially designed to ensure a good preservation of your chocolate after opening.
Ingredients: Cocoa 66% (37% Cocoa Butter (MG), 27% fat free cocoa), sugar, emulsifier: soy lecithin, natural vanilla powder. May contain milk.
This Barry Mexico dark couverture chocolate matches perfectly with cinnamon, gingerbread, caramel, hazelnut, licorice, raspberry, banana, banyuls and curry.
Use: This Barry Cacao is ideal for molding chocolates and candies, coating, ganache for pastries and interiors of candies, cookies, chocolate sauces, decorations, ice creams and sherbets, chocolate mousse ...
Sachet of 1kg of dark chocolate pistoles Barry Origin Mexico.
Customers who bought this product also bought: