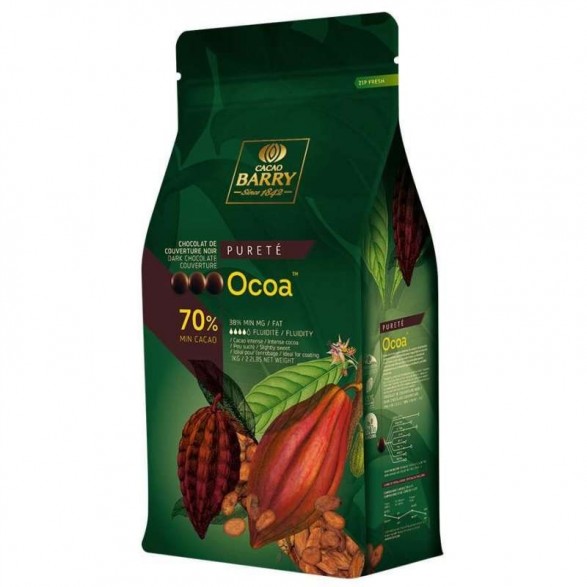  
Couverture Chocolate - Dark - 70 % Ocoa - 1 Kg
Barry Ocoa dark couverture chocolate 70% cocoa. 1kg
Barry Ocoa cover chocolate is unique. Its taste is strongly cocoa, with a hint of acidity and fruity notes. This pure and intense Barry chocolate will be perfect for your chocolate recipes. Ocoa Barry chocolate is a 70.4% dark chocolate made from cocoa beans from Côte d'Ivoire, mainly of the Forastero variety.
Easy to use, these chocolate Barry pistoles of about 2g allow easy dosing for all your chocolate recipes. The packaging of Barry cocoas is specially designed to ensure a good preservation of your chocolate after opening.
Composition: cocoa mass, sugar, emulsifier: soy lecithin, natural vanilla flavor .. May contain milk.
This Barry Ocoa dark couverture chocolate matches perfectly with paprika, cinnamon, vanilla, pepper, cloves, fleur de sel, blackcurrant, pear, apricot, caramel, walnut Jacques and malt extract.
Use: This Barry Cacao is perfect for molding chocolates and candies, coating, ganache for pastries and interiors of candies, cookies, chocolate sauces, decorations, ice creams and sherbets, chocolate mousse ...
1kg bag of dark chocolate pistols Barry Ocoa.
Customers who bought this product also bought: