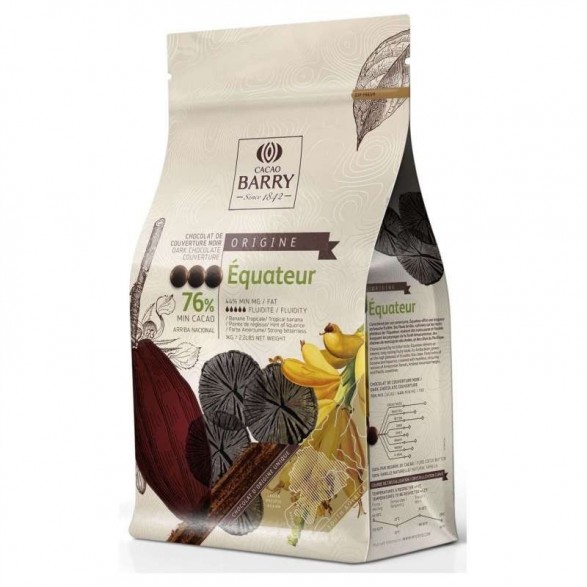  
Chocolate couverture BARRY - 76 % Ecuador - 1kg
Dark couverture chocolate. 76% cocoa. Ecuador origin.
This Dark couverture chocolate has a powerful bitterness. These woody notes offer fruity aromas at the end. Ecuador Barry chocolate is a dark chocolate with 76% cocoa. Easy to use, these chocolate Barry pistoles of about 2g allow easy dosing for all your chocolate recipes. The packaging of Barry cocoas is specially designed to ensure a good preservation of your chocolate after opening.
Composition: Cocoa 76% (45% Cocoa Butter (MG), 31% fat free cocoa), sugar, natural vanilla powder. May contain milk.
This Barry Ecuador black couverture chocolate matches perfectly with vanilla, saffron, maple, hazelnut, banana, sweet white Alsace wine, cocoa nibs, truffle.
Use: This Barry Cacao is perfect for molding chocolates and candies, coating, ganache for pastries and interiors of candies, cookies, chocolate sauces, decorations, ice creams and sherbets, chocolate mousse.
Sachet of 1kg of dark chocolate pistoles Barry.
Customers who bought this product also bought: