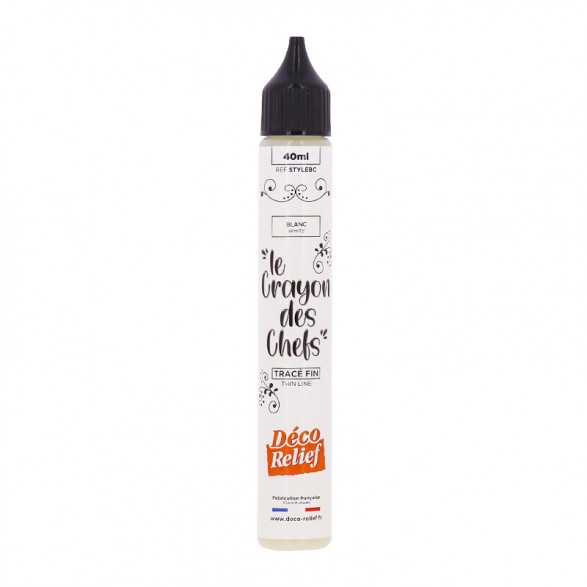  
Writing Chef's pencil - White
Decorate your desserts and culinary preparations easily and quickly with Chef's Pencils - White.
A balanced pen, flexible and handy, for decoration or topping. Our preparation allows you, with a simple gesture, to let your creativity run free.
Let yourself be carried away by the spirit of your imagination and write a message, draw a picture or have fun decorating cakes with the family!
Our range of special writing food pencils is prepared on a chocolate base (white or black depending on the color).
For a finer, liquid line that does not break, you can warm the pencil in your hands for a few moments, in fact, the heat will allow the material to become more fluid.
Ingredients: Water, sugar, white chocolate (Sugar, cocoa butter, whole milk powder and natural vanilla flavor), maltodextrin, xanthan gum, citric acid, potassium sorbate, coloring E170.
May contain traces of nuts, soya and sulfur dioxide and sulphites.
Storage: Store away from light, between 6°C and 25°C.
Use: Place the product on your dishes, plates or cakes.
Customers who bought this product also bought: