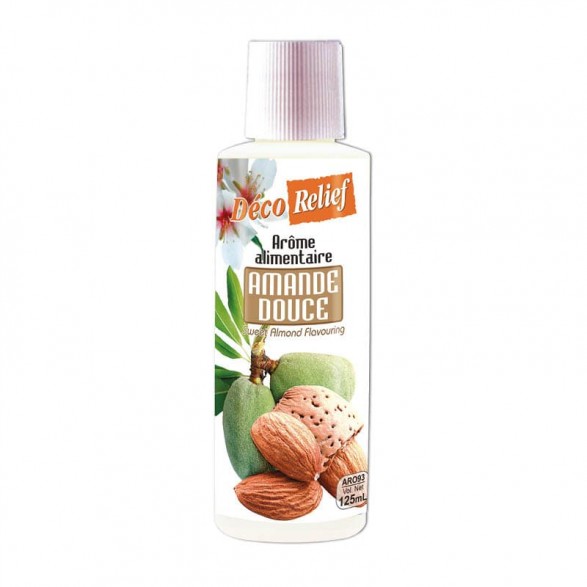  
Concentrated Food Flavoring - Sweet Almond
The sweet almond concentrated food flavoring will give an intense sweet almond taste and fragrance to all your preparations: pastries, desserts, mousse, macarons,..
Tested and approved by many French starred chefs, the "Déco'Relief" sweet almond concentrated food flavoring is a major ingredient for all your pastries and preparations.
The liquid food flavorings allow you to save time and obtain a regular taste and aroma in all your recipes. The formula of our concentrated food flavorings is not on a sugar/water base: you don't have to adjust the quantity of sugar of your recipes and it doesn't change the taste of your preparations.
Our liquid food flavorings are highly concentrated: few drops of food flavoring are sufficient to flavor your preparations.
Packaging: Dropper bottle for an easy and precise dosing of the quantity of concentrated food flavoring. Opaque and airtight bottle containing 125 ml.
Description of the flavoring: Typical almond taste, sweet.
Using advice: We advise you use this sweet almond concentrated food flavoring to add flavor and taste to the almond naturally present in your preparations. The Déco'Relief liquid food flavorings are ideal for confectionary, ganache, chocolate, macarons, desserts, ice-creams, enhancing aromas of your mousse.
Storage advice : Keep the bottle well-closed  in a dry and cool place, protected from light and humidity.
Customers who bought this product also bought: