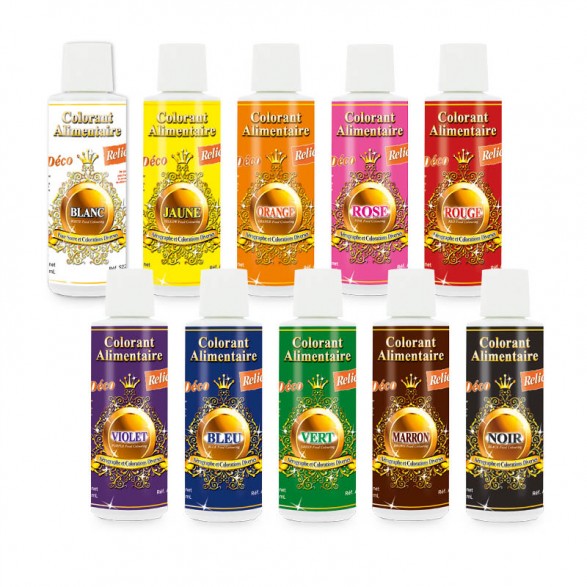  
Set of 10 Liquid Food Colours - Airbrush Special - 125mL
The Liquid Food Colours - Airbrush Special - Water Base are ideal to be used with an airbrush to decorate pastries, cakes ... They are long lasting and ready to use. Particularly fluid, you can use them to spray with a food airbrush to bring colour to your creations....
The high concentration of this liquid dye makes it possible to obtain beautiful, vivid colours.
Attention: The colouring effect obtained with the liquid dye depends on the surface on which the dye is used. A white substrate (milk, ...) produces brighter colours, a transparent substrate (water, gel, ...) does not produce the same intensity, etc. High temperature conditions cause a significant decrease in the colourant's resistance, as do extreme pH conditions.
Intended for the manufacture of foodstuffs: do not consume as is.
Use: Shake well before use. Put a few drops of dye in your preparation according to the desired colour intensity or directly into the airbrush.
Storage: Close tightly after use. Store at room temperature, in a dry place, protected from light.
Contents: Kit of 10 dyes: white, violet, red, blue, yellow, pink, green, orange, brown and black.
Customers who bought this product also bought: