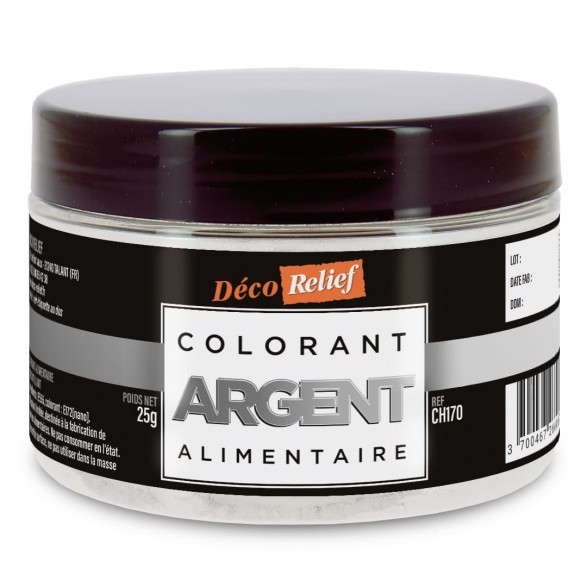  
Metallic Food Coloring - Bright Silver - 25 g
Discover our new collection of metallic dyes!
With our Bright Silder Metallic Colouring, you will find a silver colour close to the moon.
This coarse grain colouring will be ideal to bring a shiny, precious and unique touch to your desserts, for the end of year celebrations, a wedding, a glittering birthday...
This food colouring powder is used as a surface colouring, it should not be incorporated into the mass. You can use it to decorate your chocolates, sugar paste, marzipan, macaroons, desserts... It is suitable for all uses!
Use: For a "glitter" effect, simply sprinkle the metallic dye on the surface to be decorated or spread it with your finger. For more precision, especially for sugar paste decorations, you can use a fine brush.
You can also obtain a food paint with this powdered dye, simply dilute it in alcohol and apply with a brush.
To make glittery chocolate candies, place a little metallic powder in the chocolate mould before placing your pastry or couverture chocolate. The colouring will transfer when removing from the mould.
Composition: E555, E172[nano]
Customers who bought this product also bought: