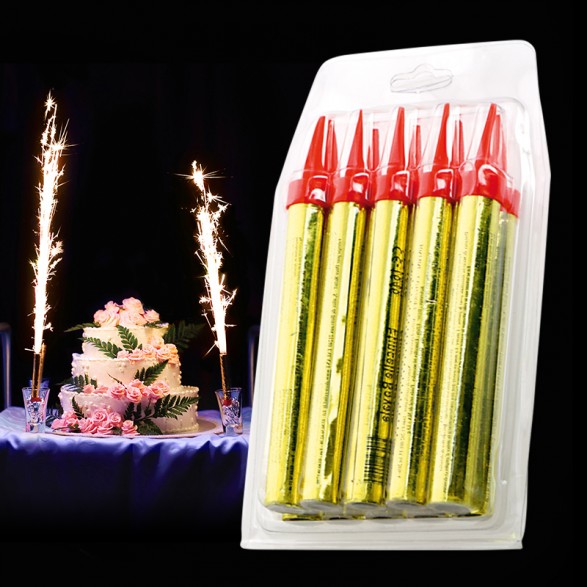  
Table Fireworks, 60 sec, 10pcs
Table Fireworks of 60 seconds to brighten up your birthday cakes and make your party unforgettable!
These fireworks candles can be used for all occasions and are essential for decorating all birthday cakes, wedding cakes, champagne bottles.
The duration of the fireworks is 60 seconds, without black gushing. The shiny golden paper of the table fireworks gives an even more festive effect.
For an unforgettable birthday or anniversary cake, find all our items in the range "cake decorations".
10 pcs in a transparent blister
Illuminate all your ceremony events with our table fireworks Etincelles Royales.
Our table fireworks last about 60 seconds to prevent that the end of fireworks happens before you reach the ceremony table.
Without fallout on your table and with a gold paper effect to suit with a royal effect.
Sold in a 10 pcs blister
Size of the firework = 120mm, diam. 14.5mm
Do not forget to turn up to down your firewoks in its red cap before lightening.
Data sheet
Dimensions

10 pcs - 60 sec.
Customers who bought this product also bought: